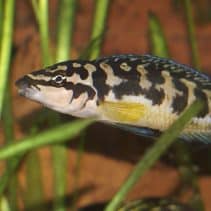 Species Suitable for a Nano African Cichlid Tank:   African cichlids don't have to be kept in a large aquarium. While the majority of African cichlids grow to be at least five inches and longer, there are also interesting African cichlids suitable for smaller aquariums. These smaller species of African cichlids generally grow to be no more than five inches and can be kept in a tank of 20- to 30-gallons. Some species are even capable of being kept in 10-gallon tanks. The majority of these micro African cichlid species hail from Lake Tanganyika in East Africa. There are four categories of suitable species for a 30-gallon Lake Tanganyika tank. As you look over this list keep in mind that as a general rule fish under three inches are suitable for a 10-gallon tank and fish over four inches would do best in a 30-gallon tank or larger. FREE SWIMMING Cyprichromis leptosema and Paracyprichromis nigripinnis can be kept peacefully in small schools of three or more. The rest of the free-swimming cichlids should be kept one individual fish per species group.   Cyprichromis leptosoma Max size: ~3.5" Paracyprichromis nigripinnis Max size: ~4" Xenotilapia Sp. Max size: ~3" Opthalmoltilapia ventralis Max size: ~6" Reganochromis calliurus Max Size:~6"   GOBY CICHLIDS Should be kept alone or in male/female pairs as they can become very aggressive with other similar types—including their own species. Eretmodus cyanostictus Max size: ~3.5" Spathodus erythrodon Max size: ~3.0" Tanganicodus irsacae Max size: ~2.8"   SHELL DWELLERS For shell dwellers, it is best to choose one of each species and in each size class, as they can become aggressive towards their own kind, especially in smaller tank set-ups. Neolamprologus brevi Max size: ~2.5"  Neolamprologus leleupi Max size: ~3.5" Neolamprologus multifasciatus Max Size: ~2"– thought to be the smallest cichlid in the world! Neolamprologus gracilis Max size: ~3.5" Julidochromis transcriptus Max size: ~3" Julidochromis dickfeldi Max size: ~4.5" Larger Neolamprologus sp. Max size: ~5-5.5" sexfasciatus tretocephalus brichardi daffodil cylindricus   CAT FISH Cat fish are normally peaceful. They can be kept alone or in small groups. Synodontis petricola Max size: 5" Bushynose pleco Max size: 6" THINGS TO REMEMBER The total maximum inches of fish should be less than or equal to the gallons of water in aquarium (i.e. 18 total inches of fish is equal to 18 gallons of water). However, with many African cichlid tanks, you can slightly overstock. If your tank is overstocked you must maintain excellent water quality, filter more than usual, and perform frequent water changes. Doubling to tripling your filtration for any African cichlid set-up is recommended. It is also important to note that Lake Tanganyika has the highest pH of the rift lakes at around 9.0. The addition of lake salts and buffers to the aquarium will help to stabilize the pH to natural levels while also providing the fish with the electrolytes they need–the better the water quality, the healthier and better looking the fish. At Absolutely Fish we frequently stock all of these small African cichlids and carry all of the equipment you need to keep them happy and...
read more
11 Freshwater Nano Fish for Your Aquarium Rebecca Noah Let's just face it: small things are cute and tiny things are even cuter. This list encompasses my favorite 11 nano species for freshwater tanks. None of the fish on the list require a tank larger than 10 gallons and majority of them can live happily in even 5 gallons.   It is important to house tiny fish with other tiny fish. The majority of the species on this list are shy, timid, and very peaceful. They can easily be out-competed for food and stressed out if placed in aquarium with larger, more boisterous tankmates. Nearly every fish on this list could live happily together in a 10 to 20 gallon aquarium except one, the pea puffer. Pea puffers can be nasty little buggers and would be best suited in a tank all on their own. Tiny tanks and tiny fish are adorable and very fun to set up and enjoy. It's really cool to watch a functioning micro-ecosystem on your desk, but that does not mean that they are necessarily a good beginner tank or less work. In fact, the smaller the tank the more important regular maintenance and staying on top of water quality is. A lot of these tiny fish are also not suitable for beginners as they require special care and feedings. Just because the tank is small and the fish are smaller doesn't mean the workload is smaller. Always seek the advice of your friendly and knowledgeable Absolutely Fish aquarist to ensure that you are setting up your tank for success and longevity. 1: Asian Stone Catfish (Hara jerdoni) Origin: South Asian; India pH: 5.6-7.6 Maximum Size: 1.2" Minimum Tank Size: 5 gallons Diet: Likely to accept a variety of small foods including dried pellets, but should also be offered a diet of live and frozen food including bloodworms, brine shrimp, daphnia, and tubifex worms. The Asian stone catfish is one of the cutest and smallest catfish species in the hobby. Maxing out at just over inch, this adorable, whiskered catfish makes for a unique addition to a nano tank. However, do not expect much activity from this little guy as the the stone catfish is very inactive and will likely stay in one place most of the time. The stone catfish is very peaceful and will do well with nearly every micro species on this list. It can be housed alone, but will do better in small groups. The stone catfish would do best in an aquarium with plenty of hiding place, softer substrate, driftwood or almond leaves. Water quality is imperative to this tiny fish and must be kept stable, clean, and well oxygenated. The stone catfish is nocturnal so it's best to feed after the tank lights go out. 2: Scarlet Gem (Dario dario) Origin: India pH:6.5-7.6 Maximum Size: .75" to 1" Minimum Tank Size: 5 gallons for one fish, 10 gallons for a pair Diet: Difficult to feed dried foods and should therefore be fed a variety of live and frozen food including brine shrimp, banana worms, and daphnia. Badids tend to develop diseases and become obese when fed bloodworms and tubifex worms so these should be omitted from their diet. The scarlet badis is a stunning nano fish that has a body shape strikingly similar to that of dwarf cichlids, although there is no relation. The scarlet gem is a timid fish and very peaceful with other fish of similar size and temperament. Its best to house one male Scarlet Badis per every 5 gallons as they can be aggressive towards each other. Due to their shy and timid nature, care should be taken to ensure that they are properly fed. The scarlet badis makes for a unique addition to a small community tank. Find out more about the Scarlet Gem here! Salt and Pepper Cory(Corydoras habrosus) Tail Spot Cory (Corydoras hastatus) Pygmy Cory (Corydoras pygmaeus) Salt and Pepper Cory (Corydoras habrosus) 3: Pygmy Cory Cats (Corydoras sp.) Origin: South America pH: 6.5-7.6 Maximum Size: 1.3" Minimum Tank Size: 5 gallons Diet: Omnivorous and will accept a variety of sinking foods as well as frozen food such as tubifex and bloodworms. Corydoras should never be expected to survive on the uneaten food from other tank mates and are not cleaners of an aquarium by any means. Each of these tiny cory cats is cuter than the last and all of them originate from South America. The tail spot (C. hastatus) and pygmy cory (C. pygmaeus) will likely max out at about one inch in length, while the salt and pepper cory (C. hasbrosus) will...
read more
Meet a Turkey Fish this Thanksgiving at Absolutely Fish! By Rebecca Noah What is a turkey fish? Turkey fish is one of several common names for the lionfish, a member of the scorpion fish family (Scorpaenidae) and the Pterois genus. Lionfish are a type of venomous, predatory marine fish native to the Indo-Pacific and are well known for their long pectoral and dorsal fins (which can look like a turkey's plumage when seen from a certain angle) and conspicuous striping patterns. Lionfish's aposematic coloration, while appalling to other fish and aids in repelling predators, makes for a striking and stunning addition to public and private aquaria.  Additionally, several of their fins are tipped with venomous spines, which makes for a captivating and alluring aquatic predator. Lionfish in the Aquarium Due to their striking coloration, impressive fins, and predatory nature, lionfish are very popular in the aquarium trade. Of the species of lionfish in the Pterois genus, the most popular in the aquarium trade is the Volitans Lionfish (P. volitanss). The Volitan Lionfish can grow up to 15" long and should be provided with plenty of open space, as it will spend time out in the open as well as hovering near décor items. Although majority of the lionfish in the Pterois genus grow larger, there are also species of dwarf lionfish in the Dendrochirus genus that are well suited for smaller aquariums. The most popular dwarf lionfish is the Fuzzy Dwarf Lionfish (D. brachypterus) staying under 7" in length, making it perfect for smaller tanks in the 30-55 gallon range. All lionfish must be housed in a predatory-themed aquarium. Lionfish are not excessively aggressive, but must be housed with tank mates that are large enough to not be eaten, such as large tangs, angels, eels, groupers, and snappers. Lionfish are very hardy aquarium specimens and will except a variety of meaty frozen foods such as silversides, krill, Mysis shrimp, and clam as well as freeze dried or pelleted foods with training. Caring for a Venomous Fish Due to the venomous spines that are located on the dorsal fins as well as the anal and pectoral fins, care must be taken to avoid contact with the species in the aquarium. The venom is a protein-based combination of neuromuscular toxin and a neurotransmitter called acetylcholine, which upon injection causes excruciating pain near the site. If stung, remove any spines left in the skin, disinfect the wound and apply non-scalding hot water to the area for 30 to 90 minutes as this will help denature the venom and reduce the pain. Even though lionfish venom is not deadly, it can be fatal if the person stung has an allergic reaction to the venom. An Environmentally Catastrophic Species Lionfish, originally native to in Indo-Pacific, have now established themselves as a dominant species on the East Coast of the Atlantic Ocean, specifically near Florida and in the Caribbean. Lionfish have easily invaded Atlantic waters because they have no natural predators to keep their population in check and a never ending appetite for any fish that can fit in their mouth (lionfish can eat prey over ½ their body size).  Lionfish are known to eat just about any living animal that is in their range including fish, invertebrates, and mollusks. The never-ending appetite of the lionfish is having negative effects on species diversity, which is leading to ecological damage to reef communities.  Lionfish are also threatening the commercial fishing industry, as they will often eat the juveniles of commercially valuable species.  Of the 12 species of Pterois, the Volitan lionfish (P. Volitans) and the Miles lionfish (P. Miles) have established themselves as a significant ecological threat to the east coast of the United States and the Caribbean. Lionfish At Absolutely Fish You can meet or even take home your very own turkey fish today at Absolutely Fish! We consistently carry Volitan lionfish harvested only from Caribbean waters in order to help reduce the invasive...
read more
Tropical Fish for Sale – Absolutely Fish, NJ Freshwater Spotlight — Scarlet Badis: A Unique Nano Fish By Rebecca Noah Often overlooked, the stunning Scarlet Badis (Dario dario) is an eye–catching micro–species of freshwater fish. Sporting seven vertical stripes, the Scarlet Badis is a beautiful red–orange fish with iridescent blue colors lining its stripes and fins. The Scarlet Badis are the smallest known perch–like fish and reminiscent of dwarf cichlids in behavior and body type. Males of the species reach a maximum size of just under an inch (2 cm) and females only half of an inch (1.3 cm). Males of the species also exhibit bolder and brighter colors along with larger sizes. The Scarlet Badis are native to India and inhabit shallow, clear water streams and tributaries. The natural habitat of the Scarlet Badis includes dense vegetation and aquatic growth with a fine substrate. A planted tank would be appreciated by the shy species but not demanded. The Scarlet Badis are an easy fish to care for and can thrive in a variety of conditions as long as the conditions remain stable. A peaceful fish by nature, the Scarlet Badis can be housed with its own species as well as many others. Male Scarlet Badis can be territorial if not enough tank space is provided. I would also recommend keeping Scarlet Badis in a community with fish of similar temperament and size, so that their beauty and personalities can be better seen. Scarlet Badis become shyer when placed with fast moving or boisterous tank mates and can also be quickly outcompeted for food. The Scarlet Badis are micro predators in the wild, feeding on small species of crustaceans, worms, insect larvae, and zooplankton. They should be fed a varied diet of frozen and freeze–dried foods in the home aquaria including daphnia, tubiflex worms, brine shrimp, cyclops, and high–quality pellets. Scarlet Badis are unlikely to take flake food and should be given bloodworms sparingly as they have been shown to develop issues with obesity and diseases when fed too often. Absolutely Fish consistently carries the rare and stunning Scarlet Badis, so stop in soon to check out this unique tiny...
read more